Ing. Dušek David, Ph.D.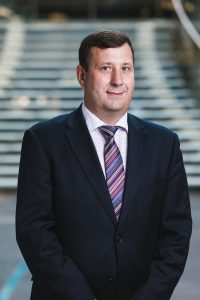 Position: Academic and scientific staff member
Long-term specialisation of David is in real estate valuation. He has been involved in the work of the Department since his doctoral studies, which he completed at the Department in 2003. Apart from lecturing at the Department of Corporate Finance and Valuation, he co-operates with the Institute of Property Valuation and the Certification Institute at the Prague University of Economics and Business. He is active in the field of real estate valuation also outside the academic ground. As the Managing Director of the Department of Real Estate Property at UniCredit Bank Czech Republic and Slovakia, a. s.,  his responsibilities include internal and external valuations of the bank's real estate pledges from A to Z ("from Aš to Tatras"). Since 2015, David assumes the position of the Chairman of the Czech Banking Association's Working Group on Asset Valuation. He speaks Czech, German, English and Russian. 
Motto: 
"Those who fall in love with practice without science are like a sailor who enters a ship without a helm or a compass, and who never can be certain whither he is going."  –Leonardo da Vinci 
Courses:
Real Property Valuation